UK DECAY: SPRING 2010 GERMAN TOUR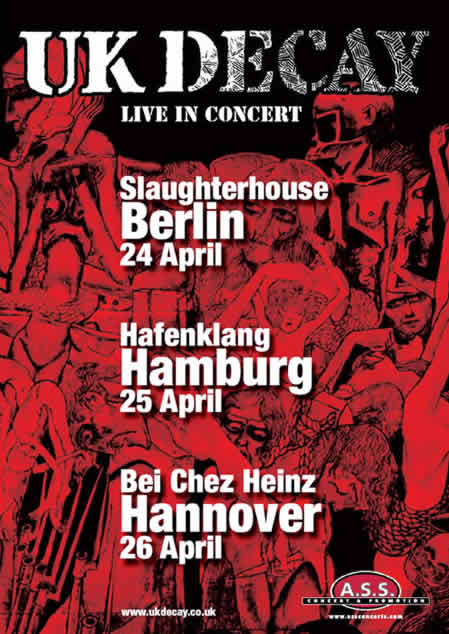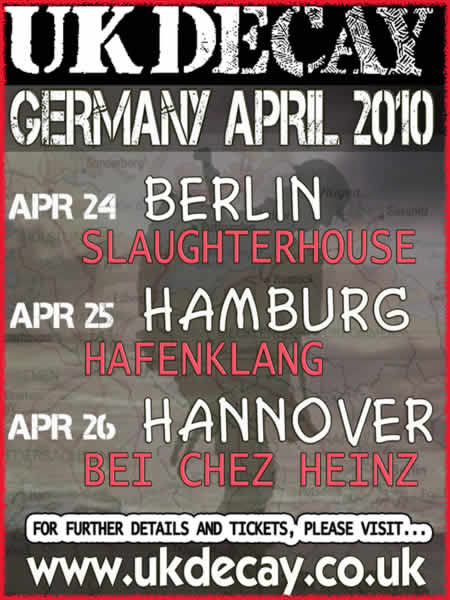 UK DECAY: SPRING 2010 GERMAN TOUR

UK Decay announce a three date mini-tour of northern Germany, April 24, 25 and the 26th.

The shows kick off on Saturday April 24 in Berlin at the Slaughterhouse, followed on Sunday April 25 at Hamburg Hafenklang. On Monday April 26 it is Hannover Bei Chez Heinz.

UK Decay have not visited any of these cities for 28 years but played 2009's WGT festival.
Back in the former period in the years 1980-82, UK Decay regularly played various venues in Berlin and Hamburg.




Tickets for the Hamburg Hafenklang are available online at

www.ticketmaster.de


Tickets for Berlin at the Slaughterhouse are available online at
www.remembrance-daze.com

Tickets for the Hannover Bei Chez Heinz. are available online at

www.ticketmaster.de

At our recent gig in Luton, we spoke with some people that showed an
interest in making the trip over to Germany from the UK.
For those thinking about making the trip to Germany, please feel free to use this posting for information and if necessary to submit any queries. We shall endeavor to keep you informed.
EMBED ONE OF OUR POSTERS
Grab one of our posters for your own website or blog
Follow the link
here