'Black December' in Keighley is only 3 weeks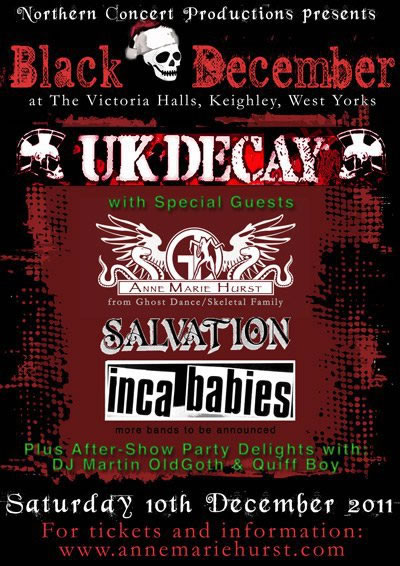 UK DECAY AT 'BLACK DECEMBER' @ VICTORIA HALL, KEIGHLEY.
SATURDAY - DECEMBER 10TH - 2011.
With Anne Marie Hurst, Inca Babies, Salvation, Further Guests to be
announced - after show party with Martin OldGoth and Quiffboy.
[size=18][color=red]EARLY BIRD TICKETS (1ST 100) ARE £15.00[/color][/size]
Tickets available from Wegottickets
Tickets available from (other sources)
Tickets From
Jumbo Records, Leeds. 0113-245-5570 www.jumborecords.co.uk
Crash Records, Leeds. 0113-243-6743 www.crashrecords.co.uk
Tickets available to purchase online from the above 2 resellers.
The Copy Shop, 24 High Street, Keighley. 01535-665510 .. Personal callers only
Musicians Centre, Station Bridge, Keighley. 01535 603136 .. Personal callers only
Aire Valley Guitars, Royal Arcade, Keighley. 01535 600202 .. Personal callers only
Accomodation?
Further information at Anne Marie Hurst.com
here
W.W.